Working with LED lighted Inspection tools will easily direct you wherever you want while in darkness.
Strong force magnet applied with flexible tube, or telescope, or needles for more application you imagine.
Used in any position, even upside down, keep parts & tools right where you need them.
These work lights are equipped with magnets, hooks, and feature different lighting modes in various applications.
Your impossible is our possible
---
Welcome to Our World of Inspection Tools
No matter what kinds of items you are looking for, we can reach all your
requirements and customize the tools you are interested in.
HOT PRODUCT
Automotive Inspection Tool Kits
Find your tools or customize one for your personal
Patented Inspection Mirrors
Patented 60mm round and 65 x 43mm rectangular inspection mirrors can be turned 360 degrees for viewing at any angle and be with stainless steel mirror frame to resist corrosion.
Claw Pick-Up Tools
Three-prong claw is easy for picking up any object and it can be bended to any shape.
Stainless Steel Magnetic Trays
Made of stainless steel to resist corrosion, the magnetic tray is with powerful permanent magnet covered with protective rubber foot prevents damage to valuable surfaces.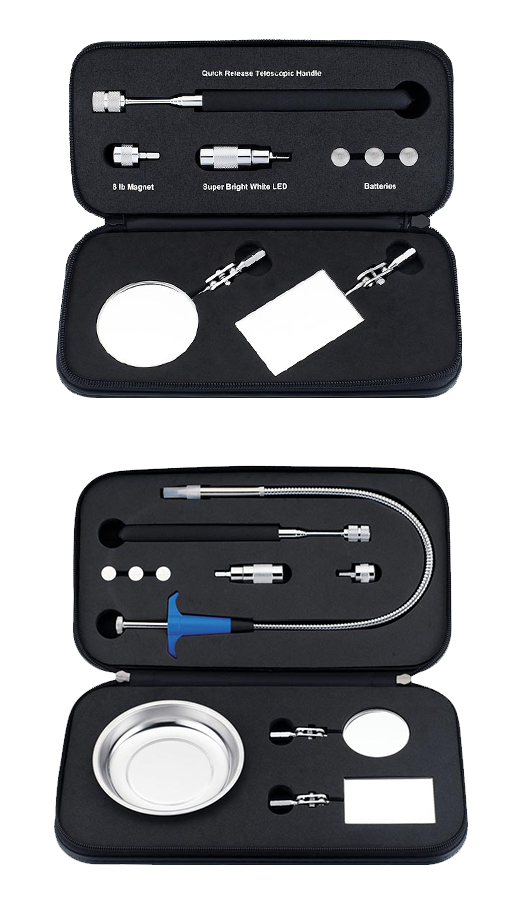 LED Lighted Inspection Tools
Equipped with Japan NICHIA White LED, its brightness delivers up to 44,000 mcd., long useful life up to 100,000 hours, and specialized design with a focus lens and reflector.
Magnetic Pick-Up Tools
The strong magnet can hold up to 8 lb. and pick up metal objects easily.
Patented Quick Release Mechanism
Quick Release Telescope can be expanded up to 650 mm with patented design mechanism to apply with any kind of tool you require.
Create your own
Get in Touch
You are welcome to leave a message. We will reply you as soon as possible
Get In Touch
Find Us
Chi Mark Precision Industry Corp.
Office: No.28, Guangrong Street, Dali District, Taichung 41253, Taiwan, R.O.C.
Email: chimark@chi-mark.com
Tel: +886-4-24815587
Fax: +886-4-24824583
Social Media